STAINLESS STEEL VALVES
Three Pieces Full Port Ball valve
A ball valve is a type of shut-off valve that regulates the flow of a liquid or gas using a rotary ball with a bore. The medium can flow through or is blocked by rotating the ball a quarter turn (90 degrees) around its axis.
Ball valves are simpler and require less maintenance than Other types of valves. The packing seal on the valve stem does not easily wear or fail because the stem rotates without axial movement. In addition, they are simple to disassemble and repair, and worn parts are inexpensive to replace.
Stainless Steel One-Piece Ball Valve– has a single-piece cast body that houses the ball valve's internal components. This is one of the most affordable and have a reduced bore.
Stainless Steel 2 Piece Ball Valve– is made up of two pieces of housing that are fitted together. The main piece houses the ball and has a connection to one end, while the other piece holds the internal components together and has a connection to the other end. The most common type of ball valve housing is two pieces. The two parts can be disassembled for cleaning, maintenance, and inspection, but the valve must be removed from the pipe.
Stainless Steel 3 Piece Ball Valve– is made up of the housing for the valve's internal components, which are fitted and held together by bolt connections at its two ends. The ends of the pipes are threaded or welded to the main pipe. Three-piece ball valves are used in applications that require frequent valve maintenance.
Design Feature

•Full bore
•3-PC cast body
•Bi-directional
•High quality, very long service life
•Easy to use, quarter turn to shut off
•Corrosion resistance, suitable for many different types of medias
•Zero Leakage, 100% leakage test before release
•Threaded end (NPT / BSP / PT / PF / BSPT) for connection
•Available in PTFE,R-PTFE Seat Material.
•Pressure Rating: 1000 PSI / 1000 WOG
•Blow-out proof stem design
•Anti-static structure design
•Adjustable stem packing
Options
•Fire safe design
•V Port ball available in 30°/ 60°/ 90° for controlling and regulating the flow while the ball is turning.
•Various seat materials for different working temperature conditions. Tell us your working temperature conditions, we will find the right one for you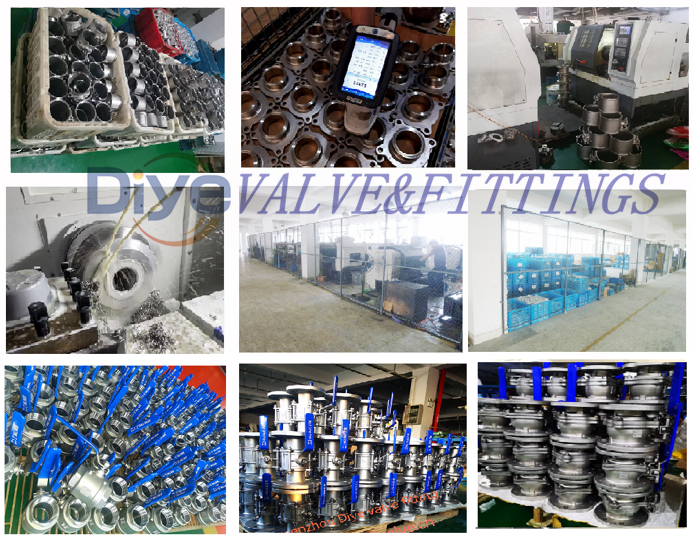 These products mainly used in the field of industrial, we also supply Stainless Steel Flange ball valve,1PC ball valve,2PC ball valve 3PC ball valve,Globe valve,Gate valve Strainer, Flange,Fittings and so on.
3PC Female/Male F/M Threaded/Screwed Ball Valve, Stainless Steel SS304/CF8 Full Bore Industrial Valve /3PC Ball Valve/316 CF8M Two Ball Valve /